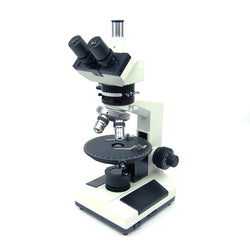 5060 Polarised Light microscope
We offer a transmitted microscope with ergonomic viewing head and achromatic objective lenses offering a magnification range of 40x to 400x.
Polarised observation techniques are used for observations of thin sections of minerals, polymers, crystal and particulates.
The microscope is used for geological and petrology, applications.
Benefits:

1. Polarizing filters: The 5060 polarized light microscope is equipped with polarizing filters that allow the user to study the optical properties of birefringent materials with high clarity and contrast.

2. High-quality optics: The 5060 polarized light microscope is equipped with high-quality optics that provide high resolution and sharp images.

3. Versatile: The microscope is suitable for a wide range of applications, including materials science, geology, biology, mineralogy, and chemistry.

4. Easy to use: The microscope is easy to use, and it comes with a user-friendly interface that enables users to obtain high-quality images quickly.

| | | | | |
| --- | --- | --- | --- | --- |
| Magnification | Numerical Value (NA) | Focus (mm) | Work Distance (mm) | Work Type |
| 4x | 0.10 | 31.05 | 37.5 | Dry |
| 10x | 0.25 | 17.13 | 7.32 | Dry |
| 40x | 0.65 | 4.65 | 0.63 | Dry |

1. Materials science: The 5060 polarized light microscope is widely used in materials science for studying the microstructure of materials such as metals, polymers, ceramics, and composites. 2. Geology: The microscope is also used in geology to study the optical properties of minerals, rocks, and fossils. 3. Biology: The microscope is used in biology to study the microstructure of biological tissues such as bone, cartilage, and muscle. 4. Mineralogy: The 5060 polarized light microscope is used extensively in mineralogy to study the optical properties of minerals and their crystal structures. 5. Chemistry: The microscope is used in chemistry to study the structure and properties of crystals, polymers, and other materials.
Overall, the 5060 polarized light microscope is a powerful and versatile tool that is useful in a wide range of scientific disciplines. Its polarizing filters, high-quality optics, versatility, and ease of use make it an excellent choice for enthusiasts and scientists who need to study the optical properties of materials with birefringence or double refraction