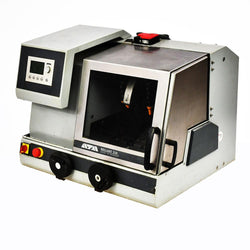 ATM Brilliant 250 Abrasive Cutter
Metallurgical abrasive cutting machine manufactured in Germany by ATM.
This machine offers a powerful and versatile cutter.  The cutter has been fully serviced and is in very good condition. The ATM Brilliant 250 with 300mm abrasive cutting wheel is a robust and high quality abrasive cutter.  The operation of the machine is by manual wheel feed and automatic control through a PLC controller.  Feed rates can be set and high quality sectioning can be achieved with the selection of high quality Spectrographic abrasive cutting wheels.
THIS MACHINE HAS NOW BEEN SOLD
300mm Cutting Wheel
Machine Dimensions: L90 x W75 x H70 cm
Brilliant 250 E Abrasive Saw
4.5Kw
Ser No: 9072
09/2001