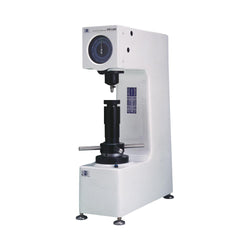 Future Tech FR-1AN Rockwell Hardness Tester
A range of analogue Rockwell and Rockwell superficial hardness testers. The Rockwell type hardness tester is a reliable hardness tester used most widely for testing metal to plastic materials due to its easy handling even by inexperienced operators and relatively little personnel errors in measurement.
The Rockwell-Superficial hardness tester is almost equivalent to the standard Rockwell type hardness tester in its principle and structure. Since its indentation is minute due to small test load, it is the most suitable for measurement of thin metal plates and completed parts, minute parts of watches, clocks and computers, and carburised, nitrided or other surface-quenched parts that can not be measured by the Rockwell type hardness tester. It is thus frequently substituted for the Vickers hardness tester.