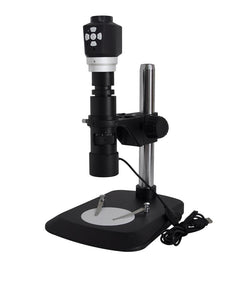 HD51-H Inspection Microscope
Zoom magnification up-to 365 x suitable for high quality image capture of artefacts for reporting, cataloguing and measurement.
Digital monocular stereo microscope HD51 H features unique optical system, precise mechanism, great depth of field and high resolution, which is a regular microscope for extensive range of application. HD51 is easy to operate with high verification efficiency, suitable for inspection of electronic industry production line, verification of printed circuit board, inspection of weld defect and so on. It can be used not only for microscope observation, but also for photograph, recording and edit, save and print images on PC.
Microscope Features

Integrated 5 megapixel High definition CMOS camera
Plug and play USB 2.0 connection
Excellent optical system with continuous zoom objective lens 0.7x~5x
High magnification 365x zoom
Dedicated measurement software
Special designed incident illumination coax light

Camera Features

High sensitivity 3.5 megapixels CMOS sensor and 1080P digital HD Image display.
Avoid tedious adjustment work and directly change the operation distance through eye height adjustment ring (eye height effective value BFL: 11.6~36mm) and expand the original magnification ratio of the microscope.
30fps high speed display without trailing smear for high speed and stable image transmission.
Under HDMI mode, HDR wide dynamic represses strong light reflection function.
Dual output HDMI&USB support photography/recording and real storage of SD card for onsite analysis and subsequent research.
HDMI interface can connect computer or displayer for observation, realize hot swap application and make output for subtle image quality and excellent colour rendition

Camera Specs Model - DM350

Sensor - 1/3" CMOS
Resolution - 5MP (2304 x 1536)
Pixel Size - 2.2_m x 2.2_m
Dynamic Range - 69.5dB
ADC - 12bit, 8bit RGB to PC
SNR - 39dB
Spectral Response - 380650nm
Frame Rate - 30fps @ 1080P
Exposure - Automatic, Manual
White Balance - Automatic, Manual
Software Interface - DirectShow
Capture Mode - Picture & Video (JPG and MOV)
Optical Interface - Mini HDMI & Micro USB
Image Interface - Micro USB, DC 5V 2A
Charge Interface - C Mount
Operation System - Windows XP/7/8/10