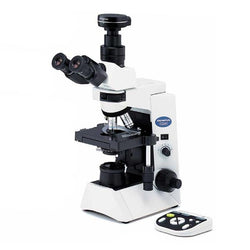 Olympus CX41-Met Upright Microscope
The CX41-Met is an upright microscope from Olympus that provides images of outstanding brightness and clarity in a variety of observation modes. As well as Olympus' renowned UIS2 optics infinity system, it employs the PLCN series of Plan Achromat objectives, which are made from carefully selected top quality glass and manufactured with the highest precision. The result is a major improvement in image flatness, providing images that are among the very best in this type of microscope.
Transmitted light illumination is from a 6v, 30w high-intensity halogen light source.
Tilting binocular tube
Inward-facing quintuple revolving nose piece
Rack-less stage with enhanced operability
Torque adjusted focusing knob
Easy transportation and installation
Rubber gripped stage

Optical system - UIS2
Observation tube - Binocular / Trinocular / Tilting Binocular

Field Number - 20 / 20 / 18
Inclination - 30° / 30° / 30-60°
Interpupillary distance adjustment range - 48-75mm

Stage Size - 188x134mm

Movement range - 76 mm X-direction x 50 mm Y-direction
Specimen holder - Double slide holder

Dimensions - 233x432x370mm
Weight - 8.5Kg