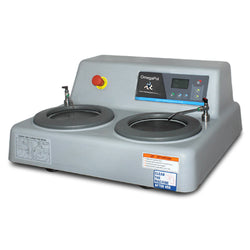 OmegaPol T 200mm
The OmegaPol T 200mm Metallurgical Polisher, is a manual system for material science.  A range of machines offering 200m platen sizes in single and twin base systems. The variable speed and robust construct make them ideal for manual metallurgical grinding and polishing.
Motor - 1HP (Variable Speed)
Platen Supports - Quick Release system for changing platens
Diameter of Platens 2 off - 200mm (8") - supplied separately
Water inlet and outlet in rear panel
Flexible tap with flexible hose to direct water to any part of platen
Rotation in clockwise and anti clockwise rotation 0-500rpm
Voltage - 220v
Dimensions - 455x765x385mm
Weight - 60Kg

200 polishing wheel.
Varaiable speed 50 to 600 RPM.
Dual direction of rotation.
Water cooled grinding.