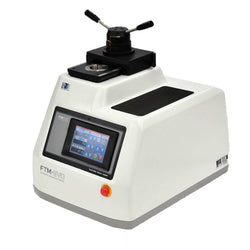 OmegaPress EVO Metallurgical Mounting Press
The new high performance Evo mounting press offers an evolution in metallurgical mounting press technology.  A number of outstanding features keep this mounting press ahead of the competition.
The full programmable unit offers touch screen control for simple operation and ability to mount thermoplastic and thermosetting resins using defined and adaptable programs.
The precise slider closure means closing and opening the head can be performed easily with no strain to the operator.
The Evo has an extended mould chamber allowing for two metallurgical mounts to be produced at per cycle run.