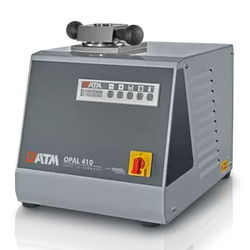 Refurbished ATM Opal 410
The Opal 410 is a great compact mounting press produced by ATM. It has been fully refurbished by the expert engineers at Spectrographic.
The metallurgical mounting press is used by the materials scientist for encapsulation of samples to aid metallurgical sample preparation. Producing mounts in thermosetting and thermoplastic material gives flatter polished samples and good edges for evaluation of coatings and surface features. A wide range of mounting resins are available to offer conductive, clear, colour coding and super edge mounting to improve metallurgical preparation.
Mould Assembly Size - 40mm
Set Temperature Range - 0-200
Cooling Set Temperature Range - timed 0-30 mins
Pressure Range - 0-4bar
Display/Timer - digital/ manual 0-30mins
Machine Function - auto
Water Function - auto
Water connection size - 1/2" bsp
Drain connection size - 1/2" bsp
Power - mains 13 amp
Dimensions - 350x450x350mm
Weight - 25kg