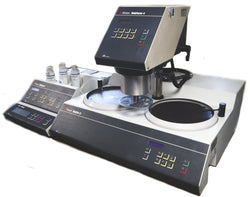 Struers Rotopol 21-Rotoforce 4 Polishing machine
Central pressure - Semi-automatic grinder / polisher

RotoPol 21:
250 mm diameter grinding and polishing discs
Rotation speed 150 or 300 rpm
RotoForce 4:
Rotary speed: 8 rpm
Force setting: 5-50 N.
Can be sold with the doser or without.
Polishing machine from Struers, type RotoPo-21 with Multidoser dispenser unit and RotoForce-4 grinding/polishing head with Lupo drip lubricator. This polishing machine is suited for polishing an array of materials and creating microscope samples in a safe manner thanks to the RotoForce-4 head, this head holds the sample and pushes it against the polishing disc with a force of 5 to 400 newton for a preset amount of time (5 seconds up to 99 minutes). This makes it possible to reproduce polished samples by polishing them for the same amount of time under the same angle. The RotoPol-21 also makes polishing safer since you won't have to use your hands close to moving parts. The Multidoser makes sure that there will always be the required amount of polishing fluid on the polishing disc. The machine has been fully overhauled and is offered in "like new" condition. Spectrographic offer full service packages and consumables for the long service of these machines. Please let us know if you would like more information on this polisher and we will be pleased to help.