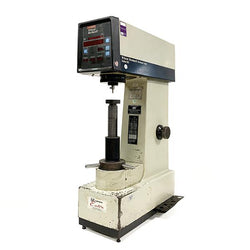 Used Wilson Rockwell Hardness Tester
Wilson Rockwell Hardness tester with Digital display and anvil for flat and  samples. Additional anvil is available for Cylindrical samples.
Preloads of 3 kg and 10 kg and major loads 15, 30, 45, 60, 100, 150 KG for Rockwell and Rockwell Superficial testing. The hardness tester is available with a certified indenter and meets the requirements of ASTM E18 - 15.