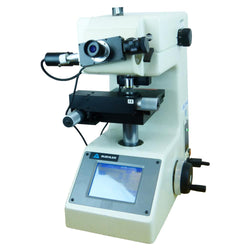 Buehler 1600 Series Microhardness Tester
The Buehler Micromet is a Japanese manufactured precision measuring instrument for the study of material hardness. Using this system we are able to evaluate the strength of materials using the vickers and knoop hardness scales. It is very useful for the study of surface hardness and depth of hardness when evaluating a prepared cross section with may be surface hardened. The testing is carried out to perform quality control of technical processes such as spray coatings and surface treatments for automotive and aerospace industries.
This machine has now been sold, however we do other similar machines coming in all the time, so please get in touch.
The digital micro hardness tester is suitable for micro vickers and knoop indentations, the turret is equipped with high magnification for measurement and low magnification for setting up of the indenter position on the samples. The tester has a camera port to allow for the addition of a hardness measurement system on the computer to improve accuracy of measurement and offering reporting functions.

Model number 1600-6300
Two objective lenses
Variable weight range: 10,25,50,100,200,300,500,1000 (g)
Variable dwell time
Adjustable stage with micrometers
Variable light intensity
RS232C and printer port
Possibility for camera modification
The indenter will be supplied with one indentation tip