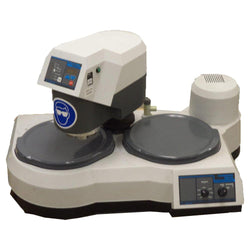 Metallurgical Polisher - Buehler Vector
Metallurgical polishing machine manufactured by Buehler with a very robust mineral composite construction to give corrosion and vibration resistance. The system is configured to offer a 250mm twin base and swinging head which has pneumatic pressure to give facility for grinding or grinding and polishing on one heavy duty polishing system. The Phoneix Alpha beta systems are designed to be upgradeable but this machine has the base and the head to allow for automated polishing.
Set up for 40mm samples, other sample holders from 25mm to 50mm are available and 250mm platens for grinding papers and polishing cloths. All parameters can be tailed to offer super polishing of most material types.
Please have a look around the website to see more high quality metallurgical preparation equipment.