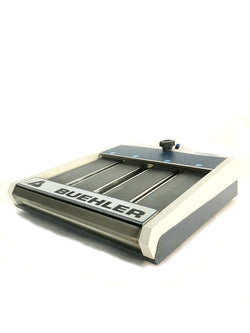 Buehler Handimet 2 Roller Grinder
Serial Number:680-HRG-01830

The Handrimet Roll Grinder is a convenient and economical instrument for manual grinding applications. It provides a four step grinding station with controlled water flow. Water activated clamping holds abrasive papers firmly in position during the grinding process. Its excellent flush system removes grinding residues from the grits when the operation has finished.
Water connection size: 8mm

Drain connection size: 16.5mm (OD) 11.4mm (ID)

Manual grinder - no motor

Paper holding size:W-90mm x L-290mm

Adjustable water flow

Dimensions: W46 x L56 x H16 cm

Weight: 10kg