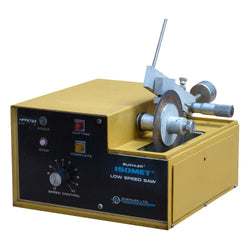 Buehler Isomet Low Speed Saw
The Buehler  low speed saw  is excellent for cutting small and  delicate samples that cannot with little material deformation reducing  heat which can be caused by high speed sectioning. The gravity-fed cutting system uses  an adjustable weights system to apply a force to the sample during sectioning. Cooling of the sample is offered using  a recommended high quality cutting fluid which is pulled from the coolant tank by the rotating blade and applied to the sample. Blade sizes up to 150mm can be used and offer a wide range of cutting options.
This machine has now been sold, however we do other similar machines coming in all the time, so please get in touch.