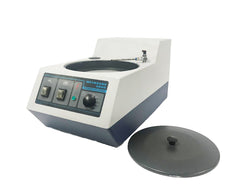 Buehler Metaserv 2000 Single Grinder Polisher
The Metaserv 2000 is a metallurgical polisher that is used in sample preparation. 
The machine can be used for grinding and polishing and features a flexible water feeding nozzle that has an adjustable flow rate.

This system has variable speed and has a 200mm platen. The platen can be magnetised for easy interchange of polishing pads and grinding discs.
This machine has now been sold, however we do other similar machines coming in all the time, so please get in touch.
Buehler Metaserv 2000 single grinder polisher

Specification:

Platen Size: 200mm

Base speed: variable 50-500rpm

Water connection size: 3/4 thread

Drain connection size: ID19mm OD25mm

Power: 240 volt mains

Dimensions: 70 x 34 x 34

Weight: 34kg