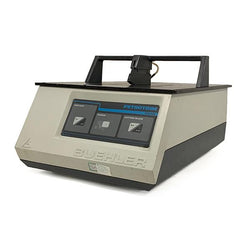 Buehler PetroTrim - Trim Saw
The PetroTrim is an easy to use precision saw machine, it can be used for the sectioning of geological samples.
Operated with manual fed and solenoid controlled sample cooling with 150mm cutting wheel with guarding for operator safety.
The machine is equipped with cutting accessory to offer help maintain a straight cut through long samples.
This unit is now sold please contact for similar machines.
Easy to use
Simple interface
Accurate cutting

Disc Size – 150mm
Arbor Size – 16mm
Vice size – N/A
Coolant connection size – 6mm pushfit
Drain size – 20mm ID 24mm OD
Coolant tank size – N/A
Power – 240V
Dimensions – 670x440x370 mm
Weight – 20kg