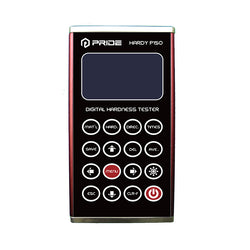 Portable LEEB Hardy P150 Hardness Tester
The Hardy P150 measures the hardness of a large number of materials in various hardness units. Seven types of impact devices make this possible. It is equipped with a USB/RS232-cable for PC transfer.
Technical specifications:

Hardness units:

HL (Leeb), HB (Brinell), HRB (Rockwell B),

HRC (Rockwell C), HV (Vickers), HS (Shore D)

Measuring range:
170 - 960 HLD
Measuring direction:
360°
Standard impact device:
D
Memory size:
48-600 groups (relative to number of impact impact times 1-32)
Statistics:

Number of group, date, average value, impact device, impact

times, material, measured values

Setting of limits:
Acoustic signal by overstepping preset min. und max. limits
Minimum weight of sample:

> 5kg solid material;

2-5kg on stable surface;

< 2kg with coupling paste on stable surface

Memory function:
Manually or automatically
Data transfer:
Cable (both USB and RS232-connection) und software
Languages device and manual:
English
Display:
128 × 64 Dot-Matrix-LCD
Backlight :
ON / OFF key
Battery capacity:
100 hours (without backlight)
Auto Power Off :
After 5 minutes
Power supply :
2 x 1,5 Volt-AA-batteries
Relative humidity:
≤ 90%
Working temperature:
-10°C to +40°C
Weight :
380 g (with batteries)
Size :
125 x 67 x 30mm

●Wide measuring range with Leeb hardness testing principle

●6 hardness units

●Large memory capacity with information about number of group, date, average value, impact

device, impact times,material for every measured value

●Upper and lower limit can be preset. It will alarm automatically

●when the measured value exceeds the limit.

●Test at any angle, even upside down

●User calibration function

●7 types of impact devices for specific applications optional

●Automatic identification by connection

●Large LCD-display: all functions and parameters are displayed + backlight

●PC-transfer with cable (both USB and RS232 interface) and software

●Battery capacity display - 100 hours operating time (without backlight)

●Auto power off (after 5 minutes) to save energy

●Measurements on steel, cast steel, cold work tool steel, stainless steel, grey cast iron, nodular

cast iron, cast aluminium alloys, brass, bronze and wrought copper alloys Measurements on

large and small hollows, bearings, heavy parts, permanently assembled parts

●Defect analysis of pressure vessels, steam generators, etc.