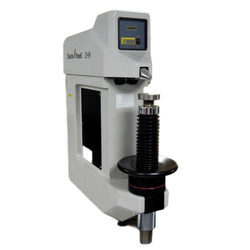 Refurbished Zwick Roell Rockwell ZHR Hardness Tester
Rockwell Hardness Tester NOW SOLD
Advanced Rockwell hardness tester for the testing the hardness of metal samples. The advanced nose design allows for measurement of complex  component with internal features. The controls are performed using a touch screen controller to allow a full range of Rockwell and Rockwell superficial tests to be carried out.
Certified indenter is available at extra cost.
Contact Spectrographic for an itemised quotation for your full testing equipment requirements. All our equipment can be demonstrated at one of our showroom and come with full support and training packages.
The different instruments in the Rockwell product group are used for classical Rockwell methods (load 60-150kg), superficial Rockwell methods (load 15-45kg) and combinations of Rockwell and superficial Rockwell methods (load 15-150kg).

Key Features

The key features of the Zwick ZHR are:

Different levels of operating convenience are offered by these instruments.
These include models with one-button operation for simple test situations (Type AK, Type BK), models with line display and integrated conversion functions for standard applications (Type LK) and models with touch-screen, expanded functions and maximum ease of use for a wide range of test situations used for batch-testing (Type SK) and production control (Type TK).
A special feature of Zwick Rockwell hardness testing instruments is an indenter-carrier for testing at hard-to-reach measuring locations.
Other benefits include robust construction with play-free, ball/lead screw and test area height up to 292mm for testing larger workpieces, plus an integrated RS232 interface for connection to testXpert.

Specification: - Loads: 15, 30, 45, 60, 100, 150 Kg Power: mains 240v 3A Hardness Type: Rockwell 230mm Roundtable Dimensions: 782 x 292 x 700 ☑