Spectrographic
MetCut 300 Spare Parts
| Image | Part Number | Price | Variant | Purchase Quantity |
| --- | --- | --- | --- | --- |
| | 1009220 | $62.00 | Motor Return Spring | |
| | 1001261 | $697.00 | Vices | |
| | 1001298 | $103.00 | Gas Strut | |
| | misc | $26.00 | Coolant nozzle 1/4'' | |
| | misc | $33.00 | Coolant nozzle 1/2'' | |
| | 1009250 Metcut internal lamp | $259.00 | Internal Lamp | |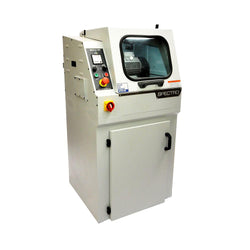 Spectrographic
MetCut 300 Spare Parts
Metallurgical abrasive cutting machine for section of samples such as welds and laboratory test pieces. The MetCut 300 metallurgical abrasive cutter uses a 250mm abrasive wheel and can cut samples upto 70mm diameter. The machine is available with the option of recirculation tank and vice options.
Machine is available as a bench top unit or with full floor standing base unit.
The MetCut 300 metallurgical abrasive cutter is a machine for manual cutting of metallographic samples which features a balanced cut for superior cutting quality. The samples of up to 70mm are held in 2 off cam lock vices and cooled using the large re-circulation tank to produce high quality metallurgical sections with high quality sectioning wheels.

We can offer various accessories to ensure the machine is suitable for your requirements. Let us discuss your requirements for vices, re-circulation tank and options for base unit.

Cutting machines are offers for the sectioning of the most difficult materials with choices of diamond and abrasive cutting wheels to optimise cut quality.

Sturdy floor model cutter for Metallographic sectioning Metals, Ceramic and mineral samples
Rust proof Steel construction
3HP (2.2 k.w), 3 Phase Motor
Cutting capacity upto 60 mm(Standard size) for standard steels (may not be applicable to all the materials)
Corrosion Resistant Cutting Chamber for a long product lifetime
Motor Speed 2800 rpm
Cut-off wheel size up to 10" (250 mm)
Wheel Flange Size 32mm
Simple Control Panel with 4 Switches - Start, Stop, Coolant, Tube light and Emergency Stop button with Key and Safety Switch
Ergonomic Cutting Handle
Easy Flow Cutting Chamber
Splash Proof, corrosion resistant with see through hood
Cooling by two water jets to provide optimum cooling
Inbuilt movable re-circulation coolant tank with 50ltrs capacity
One large drain for coolant re-circulation
1/3 HP Coolant Pump
Small opening in the side wall for long jobs
Safe and clear illumination LED Light
Cam-lock Vise Set
T Slot Bed: 60mm x 190mm with 8mm T-Slot
Voltage: 415V/50 Hz (L1+L2+L3+N+E)
Machine Size - 750x850x1550mm (LxDxH)
Machine Weight - 170kg

to follow....

These companies use this machine. It is a robust, quality and precise. We have sold over 100 of these machines, to prove how popular it is.

British Steel
Liberty Steel
Novelis
Wallwork

Full customer support, long term service plans and application support.