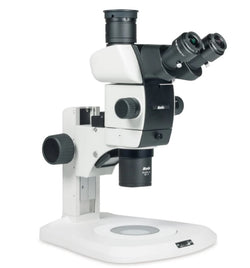 Motic SM7 Trino Microscope
Intuitive optimized zooming and colour reproduction offer you stable, high-quality images.
Interchangeable objective lenses and accessories can be used to provide guaranteed satisfaction in any given inspection environment and for any task.
This microscope offers stunning visual stereo images due to it's Plan Apochromatic common main objective.  Zoom ratio is 7:1 with a standard zoom range of 8x to 56x.  The trinocular head allows for binocular stereoscopic viewing with simultaneous digital camera imaging, great for training applications (camera sold separately).
Optical system
Colour Corrected Infinity Optical System (CCIS®)
Observation tube
Trinocular tube
Inclination
View inclination angle : 30°
Trinocular light split
Light path selection: 2 steps
(Binocular 100%, Video 80%-Binocular 20%)
Interpupillary distance
adjustable range : 55 to 75mm
Zoom drive
horizontal knob system
Zoom ratio values
7:1 (0.8-5.6x)
Zoom magnification indication
10-step, 0.8,1,1.25,1.6, 2, 2.5, 3.2, 4, 5, 5.6.
Click stop for each zoom magnification: On-Off switching possible
Optional adapter
1X C-mount, 0.5X C-mount
Standard eyepiece(s)
UC WideField 10X/22 with diopter adjustment, +/- 5 diopter

Optional eyepiece(s)
UC WideField 15X/16 with diopter adjustment, +/- 5 diopter
UC WideField 20X/12.5with diopter adjustment, +/- 5 diopter
Objective lens mounting
Screw mounting into thread
Standard objective
ACH1X (W/D=90mm)
Optional objective(s)
ACH0.5X (W/D=198.5mm)
ACH2X (W/D=33.5mm)
PLAPO 1X (W/D=81mm)
ILST7
Standard stand
LED reflected / transmitted illumination large stand (Fixed arm)
Optional stand
Pole type stand
Head holder
Mounting diameter: 76mm
Focus mechanism
Coarse focusing system with tension adjustment
Focusing stroke
Knob rotation tension adjustment, 120mm
Light source
Transmitted illumination: LED
Reflected illumination: LED
AC 100-240V, 50/60Hz, 10W
Optional accessory
4 Segmental LED Ring Light
Accessories included
Dust cover, Glass plate and Black/White plate (160mm)