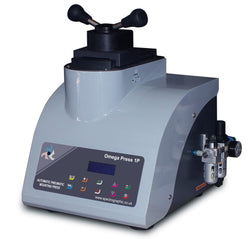 Omegapress 1P - Specimen Mounting Press
Metallurgical mounting press range with pneumatic pressure and hydraulic pressure options. A range of high specification and budget mounting presses available with full backup and support.
For the encapsulation of hot mounts in thermosetting and thermoplastic resins used in metallurgical sample preparation. Advanced machines offer intelligent programmable cycles for thermoplastic resin systems to give crystal clear hot mounts suitable for metallurgical investigations.
OMEGAPRESS 1H Auto - Corrosion resistant steel Cabinet with built in Hydraulic system.

Digital Temperature Indicator and digital timer with LCD Display System
Hydraulic Fully Automatic system
Stainless steel body Pressure Gauge system
Quick Ram return to speed up reloading
1500-Watt mould Heater
Dovetail slot for easy changeability of Mould Assemblies
Water Cooling System (Automatic)
Timer-Buzzer indication for heating and cooling cycles
Wide range of sample sizes can be accommodated
Dimensions - 490x620x590mm