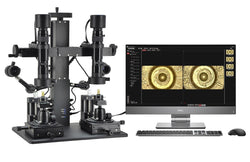 Latest artificial intelligence image algorithm

Double 8.3 megapixel cameras

Full digital image processing

Excellent tool for forensic inspection
The comparison microscope is built by the police college trace identification experts and technical experts with more than 20 years of experience in optical industrial. It incorporates the practical experience of many years of trace identification and breaks through the old-fashioned use of traditional comparison microscopes. It adopts high-magnification dual-lens, dual-channel ultra-high-definition cameras and ultra-high-definition image display on computer (4K×3K), and relies on the latest AI intelligent image algorithm to fully process the image in time and cooperate with the newly optimized mechanical support platform and multiple colour light source, objects observation are easy and convenient. Through the use of powerful soft-ware, users can quickly obtain high-definition real contrast images, gain higher work efficiency and accuracy.

High Performance Cameras
VIZ-X DCM is equipped with two high performance 8 megapixels digital cameras, that use Sony IMX274 HD CMOS sensor. They provide ultra-wide dynamic range (128dB) and ultra-low illumination (0.001Lux). The frame rate output is 25 fps in full resolution, easy to capture high dynamic range 4K video with more details.

Zoom Microscope with Excellent Optics
0.83X~10X continuous zoom, full-range HD optical lens. Special coating technology for excellent achromatic effects while ensuring a clear, bright and flat image.

Ergonomic Design for Higher Working Efficiency
Super-hard alloy design, independent adjustment mechanism, can adjust the XYZR axis for personal use habits, use scene and the characteristics of the detector, make the operation more comfortable and more humanized


Dual Ring Light Illumination
Equipped with the external coaxial light, which can uniformly illuminate the surface of the plane and the shiny surface, and enhance the features of marking, recessing or embossing. It can highlight the uneven surface of the object, overcome the interference caused by the reflection of the surface, and highlight more details that cannot be displayed by traditional microscopes.

Six-colour Illuminator
Unique multiple colour light, users can choose different wavelengths of light to observe according to different observation characteristics or applications. With low voltage, ultra low energy consumption, safe, stable, long life, high brightness, low light decay and other characteristics.
Whether it is trace comparison, text comparison or seal comparison, it is easy to use.


Dedicated Comparison Software
Dedicated comparison software, bringing unprecedented efficiency and precision to users by many years of practical experience and software developers' hard work.