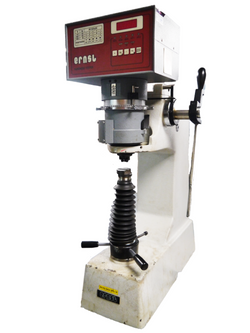 Ernst AT-130 Economical Regular Rockwell Hardness Tester
The AT-130 Rockwell Tester is useful for many basic testing applications especially testing in challenging conditions such as dirty environments, large awkward parts and inexperienced operators.
Features:

Not influenced by bending or sample deflection
Simple (one motion), quick (two seconds), easy (any one can test) and accurate (even with unskilled users).
The clamping shield permits the measure of big and irregular pieces
Digital Rockwell and Brinell hardness display
The test head removes for factory calibration/ repairs
Operates according to ASTM E18
Operates according to ASTM E10 for light load Brinell Testing
used regularly and annually calibrated up to end of 2021.