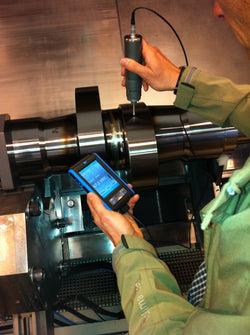 Fast, Precise on-site Hardness Measuring
Put us to the test, we can wow you with our precision hardness testing using mobile hardness testers which are easy to use.
Take advantage of our on site demonstrations, you may want to look at a loan tester to make sure the system is right for you.
We are even offering  discounts on portable hardness testers right now.
High Precision and accuracy of hardness testing can be achieved on site with difficult samples. Put our handheld hardness testers to the test and see how good we can be for you.
Our range of mobile Hardness Testers work  in accordance with UCI-Method or Leeb-Method respectively. This allows fast and simple hardness testing on site also at hard to get to test positions.
Conversion of hardness values to other units can be done just by a simple key press (according to DIN ISO 18265 or ASTM E 140).