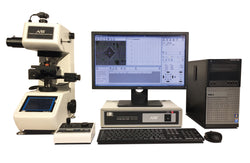 Future Tech FM-ARS-F Automatic Micro Hardness Tester
The FM-ARS-F is a fully automatic micro hardness tester equipped with a large array of features to ensure precise and accurate hardness measurement readings. The FM-ARS-F has a variety of measurement patterns and combined with the X-Y stage controls make this a very user-friendly system. This machine is part of a comprehensive range and can be upgraded with a large variety of accessories combined with some very sophisticated data processing software that provides various data output formats and statistical processing.
Delivery, Installation and training will have to be quoted separately.
The Future Tech FM-ARS-F micro hardness tester range of hardness testers are based on classical dead weight micro hardness testers with options for load range and user interface. The system can be specified to customer requirements and budgets offers a solution for automatic micro hardness testing for applications such as control of heat treatment.

The fully automatic FM-ARS-F offers many features for improved testing of materials for quality control or research.

A series of measurement operations: Continuous Indentation~Focusing~Reading~Data Record :Just by selecting a measurement pattern, all testing will be fully-automatic with high speed.

Various Measurement Patterns.

Intelligent Sample Profile Memory Function allows complicated Random measurements or Teaching Measurement along with the edge of specimen - Standard Function

Various Patterns can meet customers' requirements : Straight Line / Zigzag / Circle /Arc / Line Set / Random / Matrix / Teaching / etc.

Capability of Reading unclear Indents on un-mirror surface has been improved by more advanced Data Processing Software

Case Depth of indicated HV Hardness can be displayed instantaneously on the Chart after continuous Measurements on Carbonized Layer.

Various Data Output available - Measurement Data, Hardness Distribution Chart, Case Depth, Max. Value, Min.

Value, Mean Value, Dispersion, Standard Deviation, Coefficient of Variation, OK-NG Criteria, Conversion Data, etc.

Display and Output Color Profile Picture linked with Hardness Values - Standard Function

Most Advanced System with High-speed Sample Profile Memory Function
High-speed, High-accuracy, High-repeatability, Easy-operation, Improved Read Power
More Reliable for Large quantities of testing without human error
Samples tilted surface tracing function
Measured Image Saving Function
X-Y Stage Control
Various Measurement Patterns
Data Processing Software
Various Data Output Format and Statistical Processing

Item
Future Tech FM-ARS-F Micro Hardness Tester
Standard System Component
Automatic X-Y Stage & Motor Drive Unit
CCD Camera
Complete set of PC: 23" TFT Wide LC Monitor, Mouse, Keyboard, and Joy-Stick with Controller
Standard Software for System ARS 9000
PC: DELL or IBM Compatible Model with OS Windows 7
Micro Hardness Tester
Type
Analog Type: Controllable Loading Operation by External PC
Test Load

Test load type(A~D) can be selected. (FM-110S/FM-310S series)

Test load type(A~E) can be selected. (FM-810S series)

SETTING IS DIFFERENT BETWEEN MODELS

Loading Mechanism
Automatic Load/Hold/Release Method
Focus Operation
Automatic/Manual Operation available *Focusing Steps adjustable
Auto Stage Elevation
Automatic: by Built-in Stepping Motor / Manual: by Standard Handle & Joy-Stick Operation *Safety Devices equipped for Overrun of Elevation
Precision Vice
Standard: Max. Opening: 50mm
Turret Rotation
Automatic/Manual changeable
Load Applying Speed
60μm/sec
Dwell Time
5‒40sec
Manual Ocular
OPTION: Analog Type
Manual Measurement
By Video Line on TFT available
Objective Lens
x10 / x50 (Optical Parts for 3rd Lens Built-in)
Automatic Measurement Scale
Vickers Hardness (HV)/Knoop Hardness (HK)
Manual Measurement Scale
Vickers Hardness (HV)/Knoop Hardness (HK) is measurable with the optional analog type ocular.

Automatic

X-Y Stage

Driving Motor
Stepping Motor
Drive Control

By icon: 2 Steps Speed available in X·Y·Z axis

By Joy-Stick: Flexible Speed Changing in X·Y·Z axis

Dimensions
110×110mm
Max. Movement
50x50mm
Min. Movement
1μm
Moving Speed
1‒25mm/sec adjustable
Movement Program Pattern

Straight Line (Vertical & Horizontal)

Zigzag

Circle

Arc

Line Set for any Angle (8 Lines and Max. 998 indents on 1 Line/Total 49950 indents are measurable.) Random

Teaching

Matrix (Max. 9999 indents in a range are measurable.)

Specificity of 2 Points

Specificity of Angle

Sample Profile Memory Function & Measurement along with Profile Line

Automatic Reading
Pattern Setting
Start Position Setting for Straight Line and Position Setting for Random/Teaching Mode shall be performed by Mouse-Click.
Software
OS: Microsoft Windows 7
Available Hardness Scale
Vickers Hardness (HV)/Knoop Hardness (HK)
Measurement Repeatability
±0.8% on Test Block 700HV/500gf
Auto-Focus Time
Shortest 3 sec
Auto Reading Time
Approx. 0.2 sec/1 indent
Measurable Min. Indent
10μm
Min. Measurement Unit
0.1μm
Manual Measurement
By OPTIONAL Ocular or Video Line on TFT
Available Languages Support
Japanese/English
Other Features
Data Output Format and Editing Function

Hardness Value, Hardness Chart, Case Depth, Insertion of Picture, etc.

and Flexible Data Editing on "EXCEL"

Printer
Standard: Color Ink-Jet Type
Joy Stick
For X·Y·Z axis Movement/Standard: Digital Type
Manual Ocular
OPTION: Analog Type
Safety Device

Safety Devices equipped for Unmanned Operation

* Turret Rotation stops instantaneously in case Object Lens or Indenter hits a specimen.

* Upper & Lower Limit Stopper is equipped against Uncontrollable Stage Elevation.