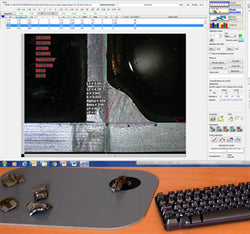 Iris2 Weld Measure Solution
The IRIS2 weld measurement and analysis system offers automated weld measurement and result capture to simplifying the process of measuring welds for quality inspection.
Measurements and images can be reported and archived to offer improved quality control and simplified audit approval. 
The Microscope control bench is a hardware and software package for acquisition, management and semi-automatic measurement, to monitor the quality of weld cord in production. 
Software suitable for the production with two access modes : Administrator and Operator. Operator mode is semi-automatic and can be used by operators who are not computer literate. Visualization of the cord with the inlaid measurements Criteria editing by the administrator in manual or automatic mode Evaluation of data : Quality Tolerance Compliance Diagnostics Production monitoring Maintenance Sampling