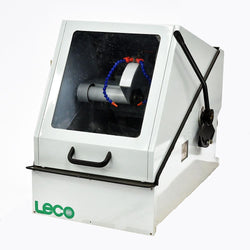 Leco MSX 255 Abrasive Cutter
Designed to handle medium-sized sections such as automotive, ceramic, and composite materials with a cutting wheel upto 300mm, the Leco MSX 255 abrasive cutter offers powerful sectioning of the hardness steels using specialised abrasive cutting wheels.  The bench top machine offers simple cutting action using the side handle with a counter balanced cutting motion.
This machine has now been sold, however we do other similar machines coming in all the time, so please get in touch.
This machine has been given a full overhaul and now looks as good as new.

The machine was supplied by new to a customer of Spectrographic, it has been in service for about 3 years. The full service, repair and overhaul was carried so we could offer a "like new" abrasive cutting machine offering high performance sample cutting for the metallurgical laboratory.

If you would like more information on this machine please let us know, if you would like service work carried out on your existing equipment we would be very pleased to help.

Stock Code: 910-006 Job 135