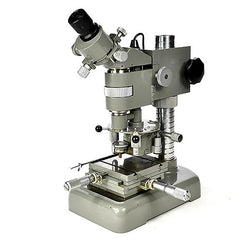 Leitz Micro Hardness Tester
The Leitz micro hardness tester, miniload system tester is used for non destructive hardness tests with loads below 1 kg. The system is ideal for the inspection of tool edges, wires and failure investigations. 
The Mini load hardness tester produced by Leitz can be used to examine metallurgical samples at a magnification of up to 400x, offer precise measurement of coatings and micro structural features.
Stock No 950-039