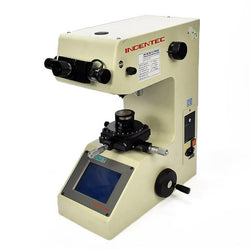 Indentec Micro Vickers Hardness Tester
The HWDM micro hardness tester is capable of performing a Vickers AND Knoop, with Fracture Toughness measurements facility for quick and precise measurement of hardness.  This is a modular system that can upgraded to an automatic system. It is part of a comprehensive range of Future Tech hardness testers that enable the user to tailor the machine for specific applications.
The Micro Hardness Tester offers ease-of-use and a step by step system of upgrading its specification, upgrading to computer based measurement is a recommended upgrade.
High quality Japanese manufactures micro hardness tester offer a load range from 10 gram to 1KG.