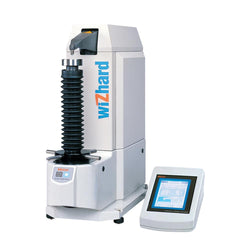 Mitutoyo 521 Wizhard Rockwell Hardness Tester
The Wizhard Rockwell and Brinell hardness tester gives automated operation. Multiple test force generation for Rockwell, Rockwell Superficial and Brinell hardness. The system is easy to use, offers fast and efficient hardness testing with conversions to Vickers, Brinell and other Rockwell scales. We like the data output allowing measured results to be outputted into Excel allowing for measurements to be stored, analysed and reported very easily.
A full range of hardness test block and calibrated indentors are available to meet international specifications.
Standard Features:
Preliminary Test Force
3kgf, 10kgf (29.42N, 98.07N)
Rockwell Superficial
15, 30, 45kgf
Rockwell
60, 100, 150kgf
Brinell
6.25, 10, 15.62, 25, 30, 31.25, 62.5, 100, 125, 187.5kgf
Load Control
Automatic (loading, duration, unloading)
Display
Touch Screen operation with backlighted LCD graphic display
Test Force selection
by touch screen
Load duration
0s to 120s (1 second increments)
Maximum Specimen Height
205mm
Maximum Specimen Depth
150mm
Display
Rockwell/Rockwell Superficial/Brinell
Conversions
HV, HK, HT, HS, HBS, HBW Tensile Strength
Statistics
OK/NG JudgementData EditingData Memory (1024 Samples Max)SPC Calculation (max, min, mean, standard, deviation, historygram)
Data Output
RS232C, SPC and Centronics
Power supply
240V AC
Dimensions
250 x 670 x 605mm
Mass
approx. 65kg