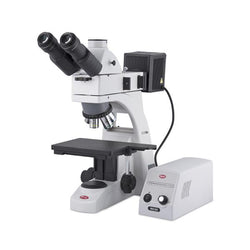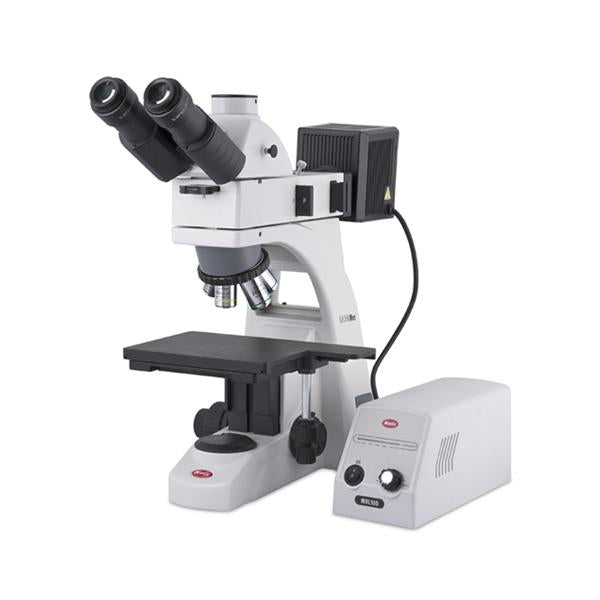 Motic Ba310MET Upright Metallurgical Microscope
The BA310MET is an affordable and powerful Metallurgical microscope series of robust Incident light microscopes. Now Industrial quality control can be performed for all opaque materials like minerals and metal samples with ease and efficiency.
Also, the BA310MET performs well in Educational environments of engineering and material professions, where affordability and ease-of-use are key demands.
Optical System - Colour Corrected Infinity Optical System
Observation Tube - Trinocular head, 360° swivelling
Inclination - 30° inclined
Eyepieces - N-WF10X/20mm with diopter adjustment, +/- 5 diopter
Nosepiece - Reversed quintuple revolving nosepiece
Objective classification - Infinity Corrected CCIS LM Plan Achromatic, DIN 45mm
Objectives - 5X/0.13 (WD 20.3mm), 10X/0.25 (WD 17.5mm), 20X/0.4 (WD 8.1mm), 50X/0.55 (WD 8.4mm)
Accessories included - Power cord, dust cover and allen key
Stage - Mechanical stage, hard coated with built-in low position coaxial stage control
Upper limit stop - Upper limit stop preset but adjustable
Focus mechanism - Coaxial coarse and fine focusing system with tension adjustment
Illumination - Epi-illuminator 12V/50W Quartz Halogen or 3W LED with integrated field and aperture diaphragms and external lamp house
Fine Focus precision - 2 um minimum increment
External transformer

Interpupillary distance - 48-75mm
Trinocular light split - 100:0/20:80
Stage size - 180x140mm
Objective mounting thread - W 4/5" x 1/36" (RMS standard)
Mechanical stage X&Y range - 75x50mm
Z-axis movement - 30mm
Power supply - 100-240V (CE)
Dimensions - 508x240x465mm
Weight - 12.7kg