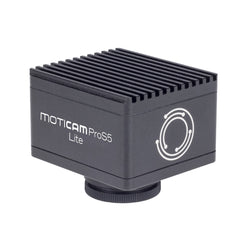 Moticam Pro S5 Lite Microscope Camera
The Moticam Pro S5 Lite Microscope Camera, is the pinnacle of the Motic S Series offering high sensitivity and speed with global-shutter scanning. A resolution of 5.0MP and a large 2/3" sCMOS sensor provides a frame rate of up to 40 fps in full resolution. The Pro S5 Lite covers all aspects needed from a camera including resolution for capturing detail, speed for moving or living samples and an image size capable of covering large sample areas.
The Moticam Pro S5 Lite utlilises advanced sensor technology with a scientific grade back illuminated sCMOS sensor, USB 3.1 interface and premium sensitivity for low light imaging.
The Motic Images Plus 3.0 software is versatile, intuitive and easy to use, and is included with this camera. View and capture images with maximum quality; capture, edit, measure and report the results. With tools such as counting, annotations, live measurements and filters, this software package allows you to analyse images and turn them into knowledge.  Motic Images Plus 3.0 is multi platform running on Windows, Mac and Linux. Lifetime software updates are provided free of charge.



* Scientific Grade sCMOS sensor, 2/3"




* 2448 x 2048 pixel (5.0 MP) resolution




* Superior image quality




* USB 3.1 interface




* Frame rate 37.5 fps at 2448 x 2048 pixels




* Pixel size 3.45 x 3.45 μm




* Scan mode Progressive, Global Shutter




* Measurement & calibration capability




* Motic Images Plus 3.0 software




* Windows 7/8/10, Mac OSX 10.9, Linux or higher




* Compatible with Intel Core 2, 2,8 Ghz or higher, 2 GB, USB-3 port, 17 inch display




* Fits C-Mount or eyepiece