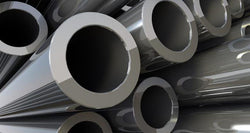 Nickel Alloys Preparation Route
Nickel based super alloys contain up to 20% Chromium and up to 5% Aluminium and small amounts of other alloying elements apart from some systems with a significant addition of Cobalt (upto 18%).  Nickel super alloys are designed for use in high temperatures such at Gas Turbine Engines.
Nickel Super alloys can be quenched and aged to form intermetallic precipitates, offering excellent resistance to creep mainly due to gamma prime precipitate for use at temperatures above 1000 degrees C offering excellent oxidation resistance.