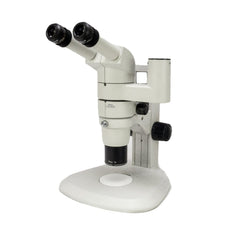 Nikon SMZ800 Microscope
Expanding the magnification range to 10 to 63x, Nikon's  stereo microscope boasts its ease of use and high-definition observation in forensic materials investigations. A combination of features deliver clearer, crisper images
​
Stereo microscope in very good condition and can be specified with optional illuminators and digital cameras for image capture.

In this configuration:

Trinocular Tube for digital imaging camera

C-W 10XB Eyepiece (F.O.V. 22mm) with Dioptre Adjuster, Rubber Eye-Shields, Reticle Holder

Objective lens PLAN 1X (W.D. 78 mm)​

Wide Zoom Range

The SMZ800N comes with a 1 – 8x zooming range, with higher magnification than conventional models and enables high-resolution observation.