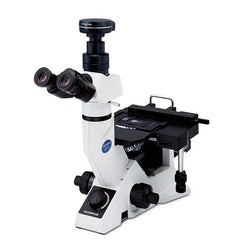 Olympus GX41 Inverted Microscope
The GX41 is an inverted microscope that features an LED light source for ultra-long life and very low power consumption. It is designed for the observation and inspection of of metal components. With the incorporation of a MIX observation unit the GX41 microscope can obtain surface structure images with greater clarity.
The upgraded version of OLYMPUS Stream image analysis software uses image synthesis to provide clear images with minimal halation, even from highly reflective samples. An available function for saving observation conditions improves user productivity and facilitates inspections by recording settings such as brightness and observation technique.
Compact design
Clear, bright observation at all magnification levels
Easy observation while standing or sitting
Easy system expansion according to user needs
Fast image recording

Optical system - UIS2
Observation Method - Reflected light brightfield observation, reflected light simple polarizing observation
Focus

Vertical revolving nosepiece movement (fixed stage), coarse and fine handles (with torque adjustment), roller guide movement.
Stroke (from 1 mm above focusing position from stage surface) Upward: 7mm, Downward: 2mm
Stroke per coarse handle rotation: 36.8 mm, Stroke per fine handle rotation: 0.2mm

Revolving nose piece - Quadruple revolving nose piece
Plane stage - Size: 160 (W) x 250 (D) mm, stage insert plate type
Mechanical stage

Stroke: 120 mm (X) x 78 (Y) mm
Coaxial handle: attachable to right/left side of plane stage
Use special stage plate CK40M-CP to observe samples up to ø50mm

Illuminator - Built-in aperture diaphragm (Lever operation type). Various ø25mm filters can be inserted
Light Source

6V30WHAL-L: long-life halogen lamp
6V30WHAL: High intensity halogen lamp
Rated power output: 6 V~30 VA
Rated input voltage, current and frequency: 100-120 V/220-240 V~0.85/0.45 A, 50/60 Hz

Electrical components - Continuous light intensity volume adjustment, built-in voltage exchange switch
Power consumption - Maximum power consumption: 85 VA 40 W
Dimensions - 236x624x407mm
Weight - 10Kg