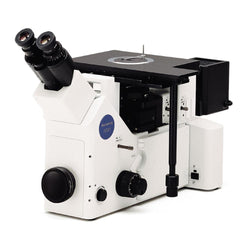 Olympus GX51 Inverted Microscope
Inverted metallurgical microscope, the GX51 inverted microscope provides stability to support excellent image clarity and superb resolution with high magnifications and comfortable operability with the option to add many accessories including digital cameras, coded revolving nose pieces and software solutions.
UIS2 optics delivers bright, sharp, high-resolution images suitable for all observation methods: brightfield, darkfield, differential interference contrast, polarization, and fluorescence. Designed with specific wave front aberration controls and specialty coatings for color fidelity, UIS2 optics ensure images are true to form and highly resolved.
The GX51 inverted metallurgical microscope provides stability to support excellent image clarity and superb resolution with high magnifications and comfortable operability with the option to add many accessories including digital cameras, coded revolving nose pieces and software solutions. UIS2 optics delivers bright, sharp, high-resolution images suitable for all observation methods: brightfield, darkfield, differential interference contrast, polarization, and fluorescence. Designed with specific wave front aberration controls and specialty coatings for color fidelity, UIS2 optics ensure images are true to form and highly resolved.

Enhanced Efficiency Through Motorization

The use of motorized components can save time and cut costs when large quantities of samples require analysis A single handset is available to quickly control the rotation of objectives. For higher levels of speed and analysis, Stream Image Analysis Software is will manage additional components such as the motorized filter wheel and automated scanning stages.

Excellent Image Clarity and Superb Resolution

Wide Variety of Choices for Superior Imaging Performance

UIS2 optics delivers bright, sharp, high-resolution images suitable for all observation methods: brightfield, darkfield, differential interference contrast, polarization, and fluorescence. Designed with specific wave front aberration controls and specialty coatings for color fidelity, UIS2 optics ensure images are true to form and highly resolved.

Example Observation Images


Brightfield


Darkfield


DIC


Simple Polarization

Diverse Lineup Allows Selections According to the Purpose
MPLAPON
Plan Apochromat Objective Lens Series
MPLFLN
Semi Apochromat Objective Lens Series for Brightfield
MPLFLN-BD
Semi Apochromat Objective Lens Series for Brightfield and Darkfield
MPLFLN-BDP
Semi Apochromat Objective Lens Series for Brightfield and Darkfield
LMPLFLN
Long WD Semi Apochromat Objective Lens Series for Brightfield
LMPLFLN-BD
Long WD Semi Apochromat Objective Lens Series for Brightfield and Darkfield
MPLN
Plan Achromat Objective Lens Series for Brightfield
MPLN-BD
Plan Achromat Objective Lens Series for both Brightfield and Darkfield
SLMPLN
Super Long WD Plan Achromat Objective Lens Series
LCPLFLN-LCD
Long WD Semi Apocromatic Objective Lens Series for LCD

Software Solution

Built to Easily Work with Digital Cameras and Image Analysis Software

Our full line of digital cameras provide high resolution viewing and fast image transfer while our advanced OLYMPUS Image Analysis Software empowers users and provides all the tools required for today's most complex metallurgical requirements. Choose from Extended Measurements, Standard Metallography and Advanced Metallography application specific modules (over a dozen application specific routines) and automatically populate data and create reports in compliance with the most popular ASTM and ISO specifications, all with just a few clicks of the mouse.

Accessories

Intermediate Modules


GX-SPU

In addition to the built-in front camera port, intermediate tubes such as the IX-ATU with trinocular tube or the GX-SPU side port allows the use of an additional cameras.

Transmitted Light Illuminator

A transmitted light illuminator can be attached to the back of the microscope body, enabling observation of transparent specimens and powders.

Diverse Lineup Allows Selections According to the Purpose
MPLAPON
Plan Apochromat Objective Lens Series
MPLFLN
Semi Apochromat Objective Lens Series for Brightfield
MPLFLN-BD
Semi Apochromat Objective Lens Series for Brightfield and Darkfield
MPLFLN-BDP
Semi Apochromat Objective Lens Series for Brightfield and Darkfield
LMPLFLN
Long WD Semi Apochromat Objective Lens Series for Brightfield
LMPLFLN-BD
Long WD Semi Apochromat Objective Lens Series for Brightfield and Darkfield
MPLN
Plan Achromat Objective Lens Series for Brightfield
MPLN-BD
Plan Achromat Objective Lens Series for both Brightfield and Darkfield
SLMPLN
Super Long WD Plan Achromat Objective Lens Series
LCPLFLN-LCD
Long WD Semi Apocromatic Objective Lens Series for LCD