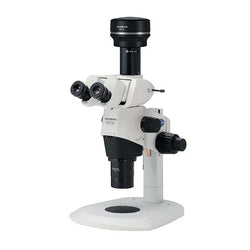 Olympus SZX16 Stereo Microscope
The Olympus SZX16 is a stereo microscope that has been designed for advanced research. It has great resolution with 900 line pairs per millimetre.
Digital imaging can be used to document or show live digital views of the samples. The Olympus DP cooled digital camera produces a very flexible imaging station. This is designed for high resolution documentation as well as high-speed imaging for live views. The advanced interface enables excellent color reproduction and no visible colour shifts during sample movement.
Superior resolution
High numerical aperture
Large field of view
Long working distance
Ergonomic zoom and focus knobs
Slim design illumination stand

Optical System - Galilean
Observation Tube - Binocular/trinocular/tilting trinocular
Zoom ratio - 16.4
Zoom range - 0.7-11.5x
Dimensions - 285x335x403mm
Weight - 7Kg