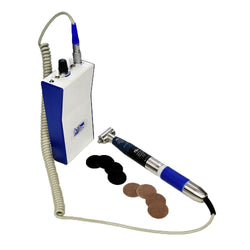 Portable Grinder / Polisher
Cordless portable Grinder/Polisher used for the on site preparation. The compact and light weight system uses 32mm grinding and polishing consumables to prepare surfaces for metallurgy. A full range of metallurgical consumables are available for portable preparation with 32mm discs.
Metallurgical portable grinder for on site preparation of materials for inspection of all kinds of metal components using replicating systems or portable microscope.

The cordless system offers upto 10 hour operation with rechargeable battery system offering quick recharge and convenient operation.

Ultra-Precision Brushless Micro-Grinder and available with a standard kit and for special applications.

1,000-40,000min RPM, Speed Control, Interchangeable with polishing head for ease of use with a range of grinding and polishing consumables.

Standard Accessories: Micro Grinder , Collet Chuck , Control Unit and other standard accessories.