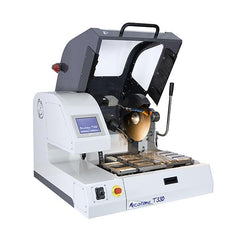 Presi Mecatome T330
The Mecatome T330 is a manual, high capacity cutting machine that has been designed to accomodate larger samples. It has a large, open cutting chamber along with side ports in the hood which allow extended samples to be cut.
This machine is also equipped with a system that blocks the cut off wheel. This makes changing the wheel very easy and efficient.
Colour touch screen interface
Password protection can be implemented on the machine
LED internal lighting
Integrated spray nozzle for cleaning
Optional external 60L re-circulation tank
Interlock switch keeps hood locked during cutting

Motor power output: 3.8 kW
Power supply: 380 V tri-phase 50 Hz
Rotation speed: 1000 to 6,000 rpm
Gradual acceleration of the cut-off wheel & immediate stop of the cut-off
Cut-off wheel: from Ø 250 mm to 300 mm
Cut-off wheel travel (Z axis) 150 mm
Inside lighting: 20 W
Width: 830 mm
Depth: 940 mm (open cover)
Height: 900 mm (open cover)
Weight: 190 kg

Base cabinet for machine
Transversal motorized table (X) with a stainless steel pallet table compatible with any vice on the market (travel 250 mm)
Laser guided

The MECATOME T330 is a manual, an automatic and semi-automatic cut-off machine allowing for metallographic quality cutting of the various materials in the industry. The touch-sensitive screen allows you to program cutting parameters, read table movements in real time, legibility and ease of use.

Powerful:

MECATOME T330 comes with a 3.8 kW motor which gives it a wide amplitude of cutting speeds allowing it to adapt to all types of materials (from 300 to 6,000 rpm).

Precise:

The Y and X tables (optional) can be controlled directly with the joystick. They are driven by step-by-step motors which provide them with incomparable precision (1/100 mm).

Simple:

Overall guidance for the machine is provided by a touch-sensitive screen and a highly-sensitive single-direction joystick. The grooved table is compatible with all clamping systems in the market. MECATOME T330 can receive a lubrication system via a pump and external or built-in tray.

Reliable:

The high precision of the MECATOME T 330 comes along with an oversize mechanics: spindles, bearings, guiding system, motor…

Intelligent:

MECATOME T330 can be programmed and can memorise over 100 cutting processes, and is password protected.