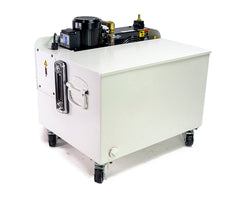 Recirculating Chiller for Metallurgical Mounting Press
Recirculating coolant tank with pump and chiller for use with metallurgical mounting press.  The Chiller can be integrated into the circuit of the mounting press offering automatic operation or with a manual switch for operating the cooling cycle.  
The system offers efficient coolant and reduced water use and waste water giving cost reductions and environmental improvements.
Water tank with 40 litres Tank is on casters for easy movement and maintenance

Integrated powerful pump Coolant radiator to maintain water temperature

Pressure resistance exhaust pipe

Heat resistance return pipe

Water meter to show coolant level

Drain bolt for easy drainage