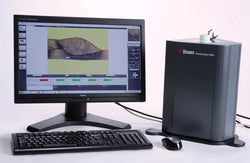 STRUCTUREEXPERT WELD - Struers
StructureExpert Weld facts
StructureExpert Weld is a stand-alone dedicated imaging tool designed for efficient and accurate weld bead control with an inverted microscope system,with measurement and reporting. Now, the weld inspection processes can be improved, thus saving time, money, and resources.
Maximum weld bead quality is ensured with StructureExpert Weld. StructureExpert Weld is the only stand-alone dedicated imaging tool that provides a simple way to ensure precise and cost-efficient weld bead inspection, measurement, and reporting – all in one solution. Unique design and features enable accuracy, efficiency, and control of after-weld quality assurance processes.
Dedicated imaging system for weld bead measurement. Consists of compact housing, LED lighting system, digital camera with motorized zoom and dedicated software for measurement and reporting. Field of view from 80 to 4.5 mm (3.1" to 0.2"), equivalent to 2.5x - 50x magnification. Includes 5 glass windows (CLSET001), 2 protection covers, calibration plate (CLCAL001) and necessary cables. Additional software modules (CLOUT002, CLOUT003, CLDAT002) are ordered separately. UKAS certificate (CLUKA001) for calibration plate and Plastic covers (CLSET002) are optional. PC and monitor are required, but not included.