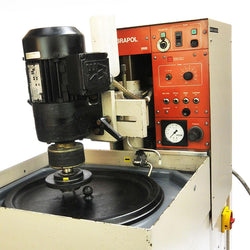 Struers AbraPol Polishing Machine
The Struers AbraPol is a floor standing polishing machine with a 300mm platen and central force sample holder for metallurgical sample preparation of upto 6 samples.
The system will integrate into a high capacity production line working with AbraPlan system and will prepare samples quickly with a two stage process. Some materials may require additional steps.
The system is supplied in serviced condition with warranty. Spectrographic offer full support for service and consumables on this machine and most testing equipment.
Stock Code: 920-049, 920-050