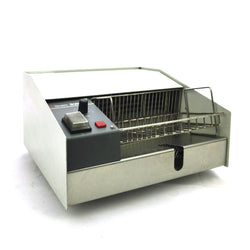 Struers Drybox - 2 Sample Dryer
For the drying of specimen,  Struers Drybox-2 is a combined drying and curing apparatus. Drybox-2 may considerably reduce the curing time for cold mounted specimens.  Drybox-2 keeps the temperature in the mount at the right level throughout the entire curing process
This is used for the drying of specimen holders, single specimens and curing of cold mounting mounts. Struers Drybox-2 is a combined drying and curing apparatus which produces a strong air flow that can be heated between 40 °C and 90°C. Drybox-2 may considerably reduce the curing time for cold mounted specimens. Epoxy cold mounting systems start to cure due to a chemical reaction when the two components are mixed. Heat advances the start of the reaction, but once initiated, the reaction requires cooling especially for large mounts. Drybox-2 keeps the temperature in the mount at the right level throughout the entire curing process.
 This item has now been sold, however we have other sample dyers available.
You may be interested in this sample dryer....