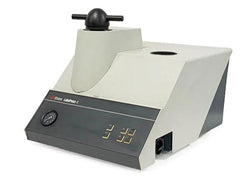 Struers metallurgical mounting press for the production of thermosetting and thermo-plastic moulds. The system is powered using single phase input and using an electro-hydraulic pump for pressure on the sample.
The mounting press is complete with 50mm mould assembly.
The systems have been fully refurbished and tested. See the engineers report for more information.
 This item has now been sold
Mould Assembly Size - 50mm
Set Temperature Range - 150 or 180
Cooling Set Temperature Range - N/A
Pressure Range - 0-50 KN
Pressure Guage - Yes
Display/Timer - N/A
Machine Function - Manual
Water Function - Manual
Water connection size - 8mm pushfit
Drain connection size - 7mm ID OD 13mm
Air connection size - N/A
Power - Mains
Dimensions - 700x420x600mm
Weight - 25KG