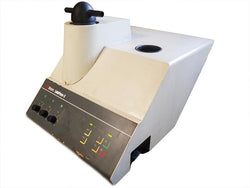 Struers Labopress mounting press with 30mm closure.
Fully automatic operation with hydraulic pressure and water assisted cooling cycle. Setting of parameters, heating, cooling, and force for prefect encapsulated micro samples.
The system uses an energy efficiecent 750 watt heater and reduces cycle time and offers temperature settings of 150 and 180 degrees C. The use of an intermediate ram offer two samples produced per cycle improving operator efficiency.