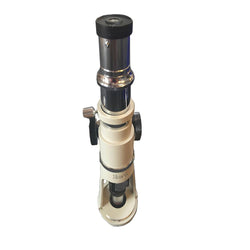 Struers Portable Microscope
This Struers portable microscope is lightweight for hand-held field inspection of replicas and prepared surfaces. Offering strong construction the microscope is ideal for the examination of prepared surfaces provided portable polishing machines and portable electro polishing machines. A option for digital camera can be offered for image capture. Options of eyepiece reticule and calibration slides are available.
 SOLD
Portable microscope with battery operated illuminator equipped with 10x eyepieces and 10x, 20, 40x objective lenses and focus control.