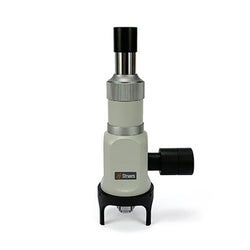 Struers PSM-10 Portable Microscope
The Struers PSM-10 is a portable microscope that is lightweight and great for hand held inspection of prepared surfaces.
It has been built for rugged use and is ideal for the examination of prepared surfaces provided by TransPol-5 and MoviPol-5. The PSM-10 provides up to 600x magnification.
This portable microscope has been used previously, however it looks and works as it would brand new. It comes with an extra bulb and battery as well as two objective lenses: PL L 10x/0.25 and SM 20x/0.40. This is all held in the protective casing ensuring it is all kept safely together when it isn't in use.
This unit is now sold, let us know if we can help.