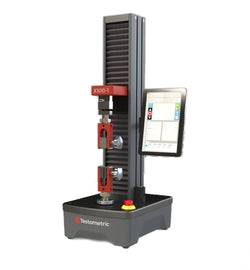 Testometric X100 1KN Tensile Machine
Fully digital testing system with high precision control and accuracy, includes automated computer control of test methods giving simplicity of operation.
High resolution load cells with accuracies better than +/-0.5% down to 1/1000th of the load cell capacity.
Automatic recognition of load cells and extensometers, with instant calibration check facility.
800% overload capability of load cells without damage.
High efficiency pre-loaded self cleaning ballscrews for fast, quiet testing. Fitted with sealed for life lubricated end bearings.
Crosshead guidance system providing precise alignment and smooth running. Precision crosshead control via digital AC servo drive and brushless servo motor giving maintenance free operation and 23-Bit positional control. High speed data collection systems for up to 4 synchronous channels. 6 I/O channels for additional devices such as extensometers, micrometers, calipers, balances etc. High stiffness loading frames with solid specialised steel crossheads and rigid extruded support columns with T-slots for accessory mounting. Overload, overtravel and impact protection. Telescopic covers giving additional protection for ballscrews against dust and testing debris. Small footprint design, giving economy of bench and floor space. Extensive range of grips and fixtures for tension, compression, flexural, shear, peel and product testing etc. A wide range of contacting and non-contacting extensometers is available including laser and video models.

Technical Specifications

Capacity of frame and max allowed load – 100 kN (22,48 1 lbf)
Standards met or exceeded – ISO 7500-1, ASTM E4, EN 10002-2, JIS B7721, GB/T 16825.1, DIN 51221, BS 1610 and other equivalent
Load cell reading resolution – Over 3 million division (24 bit A/D converter)
Frame stiffness (Average) – 84,000 N/mm
Max deformation at full load – 1.2 mm
Stroke resolution – 0.041 μm
Speed at maximum load (during test) – 0.0005 – 500 mm/min
Accuracy of positioning repeatability – 0.02 mm (20 μm)
Accuracy of the set crosshead speed – 0.5% of setting speed
Total stroke – 1,000 mm (39.37 in.)
Daylight between columns – 410 mm (16.14 in.)
Testing area width – Unlimited
Power Supply – To be chosen: 220V±10% 50/60Hz or 120V±10% 50/60Hz
Power Rating – 1.400 W
Machine weight (without accessories) – 360 Kg (794 lb)
Finishing – Silver RAL 9006 / Black RAL 9011
Room temperature – From +5 to +40 °C
Air humidity (without condensing) – Max 80%
Internal data sampling rate – 1,000 Hz
PC data transmission rate – 500 Hz
Dimension (HxWxD) – 1,682 mm (66.22 in.) x 783 mm (30.83 in.) x 820 mm (32.28 in.)
Size when packed (approx) – 1000×950 H1,950 mm
Noise level – < 72 db

Available Main / Auxiliary Load Cells

The main load cell is always a 100 KN. No limit in number of auxiliary load cells to be used under the main one. All load cells can work in compression and tensile.
Nominal sizes – 10N 20N 50N 100N 250N 500N 1kN 3kN (Max Load software limited)

Additional Options

Extended Height and Width frames available
Kevlar ball screw covers – (couple)
Silenced air compressor 0.75 Kw 1,450 rpm 230V 50Hz 1A 98 litres/min
Increased speed of crosshead up to 1000 mm/min
Internal piping with solenoid valves to use pneumatic device by keypad – compressed air line required (min 5 bar)
External piping for pneumatic device with foot command – compressed air line required (min 5 bar) – filter, regulator & indicator included
Table for machine, PC and printer (width x depth x height mm 1750 x 750 x 740 600 Kg max) – white RAL 7035 with 6 black support
Table for PC and printer only (width x depth x height mm 900 x 800 x 730) – grey
Touch screen (~ 7 inch) colour monitor (to be use as keypad)
Calibration certificate class 1 in range 1%-100% of full load
Calibration certificate class 0.5 in range 1%-100% of full load
Extension of certification class 1 in range 0,2%-1% of full load
Touch screen PC all-in-one with support on column
USB Web cam(14) – the use of camera for recording test requires the special software module
Electronic power supply stabilizer
Integral barrier – Aluminium profile and mm thickness polycarbonate panels – Split opening front and rear door , with electric switch
Extra price for reinforced structure and panels in polycarbonate 8 mm thickness
Analogic input channel (strain gage type) for longitudinal deformation
Analogic input channel (LVDT type) for longitudinal deformation
Second analogic input channel (strain gage type) for transversal deformation
Second analogic input channel (LVDT type) for transversal deformation
Pedestal

Force Measurement
Universally Calibrated, better than Grade 0.5 EN 7500-1, DIN 51221 ASTM E-4. AFNOR A03-501. Range 0.4% to 100% minimum. Automatic identification of load cell. Resolution 1 part in 500000. Electronic load cell protection.

Extension Measurement
Full frame length to a maximum resolution of 0.000001mm (selectable). Accuracy +/- 0.01mm. Absolute, relative and auxiliary modes in mm, inch and percent.

Speed Control
Class-leading low speed performance with speeds down to 0.00001mm/min. Drive system temperature and current protection.

Electronics System
Modular electronics system offers fast data transfer to the PC (up to 1000Hz) via high-speed Ethernet connection. Extensive input options allow the connection of a wide range of extensometers and accessories via simple plug-in interface modules.

All Testometric models are supplied with our comprehensive winTest Analysis software package.

The product of many years of continuous development, winTest Analysis provides a flexible and intuitive software package to suit all types of material testing. With built-in test methods covering tensile, compression, flexural, peel, shear, tear, cyclic, creep and multi-stage tests.

It includes a wide range of industry standard test methods and the facility to create and store an unlimited number of further test methods. There is automated storage of all test data and ease of export to other software packages such as word, excel, access and SPC systems for enhanced report generation.

| | |
| --- | --- |
| Machine Capacity | 1kN |
| Speed Range | 0.00001 to 2500mm/min |
| Crosshead Travel (excluding grips) | 630mm |
| Throat mm | 108mm |