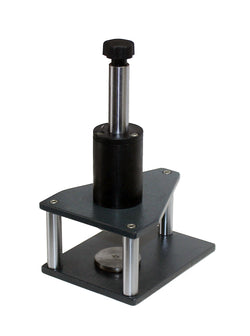 Tripod Specimen Levelling Press
Heavy Duty Specimen levelling press which is designed to present a flat sample to the microscope for improve micro-graphs.
When viewing flat polished surfaces with an optical microscope, it is desirable that the image stays in focus as the specimen is traversed on the microscope stage. To achieve this, the polished surface must be made parallel to the glass slide. The specimen levelling press is used to fix standard metallographic mounts or irregular shaped polished samples onto glass slides using Plasticine or mounting wax
Leveling of samples using a sample slide and Plasticine will present the sample to the microscope in the perfect flatness for sample evaluation and micro-graph.
We recommend plasticine clay instead of blue tack type due to being more stable.