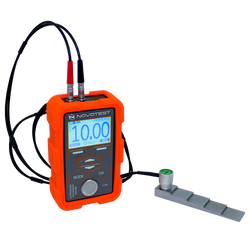 Ultrasonic Thickness Gauge NOVOTEST UT-1M
Ultrasonic Thickness Gauge NOVOTEST UT-1M is used for operational non-destructive testing of the thickness of products with one-way access, at the moment this method is the most common in the world for solving such tasks.
The method is based on the property of materials to conduct ultrasound, ultrasonic wawes are excited with the piezoceramic plate in the transducer and penetrates into the material through the couplant, then reflected from the bottom surface of the tested sample, and returns to the transducer. Based on the obtained sound transit time in the material, the device calculates the thickness in accordance with the velocity of propagation of ultrasonic waves in the test sample. The thickness value is displayed on the device's display, the measurement process takes about 1 second.
Wide range of measuring thicknesses
Convenience and ease in operation
Minimum number of controls
Select the type of probe through single button
Preset velocity of ultrasound
Graphical display with backlight
Compensation of probe delay
Control of the batteries
Mapping the presence of acoustic coupling on the graphic display
Fixation of the last measurement result in the removal of the transducer surface

Measuring thicknesses range , mm:

Probe 10MHz – P112-10-6 / 2
Probe 5MHz – P112-5-10 / 2
Probe 2,5MHz – P112-2,5-12 / 2

0.8 … 300 or more

range 0.8-30 mm
range 1-75 mm
range 2-300 mm

Probe dimensions, mm:

Probe 10MHz – P112-10-6 / 2
Probe 5MHz – P112-5-10 / 2
Probe 2,5MHz – P112-2,5-12 / 2

D12×15 mm
D17×20 mm
D20×21 mm

Diameter of probe contact area, mm:

Probe 10MHz – P112-10-6 / 2
Probe 5MHz – P112-5-10 / 2
Probe 2,5MHz – P112-2,5-12 / 2

Size of plate:

Probe 10MHz – P112-10-6 / 2
Probe 5MHz – P112-5-10 / 2
Probe 2,5MHz – P112-2,5-12 / 2

Setting range of the ultrasonic velocity, m / s
1000-17000
Discrete readings on the digital indicator, mm
0.1
Response time, with no more than
1
Basic measurement accuracy, mm
± (0,01 T+0.05)
Echo-Echo mode (through coating measuring), max thickness of coating, mm
1
Standards
ASTM E797
Storage of measurement results
256
Overall dimensions, mm
120x60x25
Operating temperature range, ° C
-5 to +40
Power supply
2 AA batteries
Time of continuous work hours, not less, h
10
Weight of electronic unit with battery, no more, kg
0.2

Electronic unit Ultrasonic Thickness Gauge
Transducer (probe) – 1 pc
AA batteries – 2 pcs
Charger
Cable for PC
Operating manual
Case